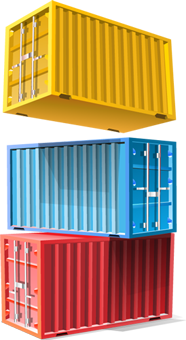 At Box Credit, we offer financing solutions for companies in the portable storage industry and the portable self storage industry.
Our products include a variety of short and long term operating leases as well as lease to own programs of different lengths and loans varying in amounts from a few thousand dollars to several millions.
Our industry know how makes it possible for us to tailor individual programs for each customer subject to his strategy, geographic location and the type of equipment being financed.
Types of Financing:
Lease-to-own
Operating Lease
Sale leaseback
Refinancing

Sale leaseback
New production financing
Subordinated debt programs
Custom solutions
Products:

New and used cargo and storage containers used for portable self storage
Refrigerated and other specialty containers
Forklifts, chassis and other storage industry equipment
Customer Requirements:
A profitable company or sole proprietorship
Sufficient equipment value to cover the amount financed
Proven business experience and a strong financial history
Information and Criteria for your transaction
Transaction size
Years in
Business
Under
Current
Ownership
Owner's
Personal
Guarantee
Credit
Application
Completed
Current
Quarterly
Financial
Statements
2 Years
Company
Federal Tax
Returns
2 Years
Owner's
Federal Tax
Returns
Up to US $50K
2
x
Up to US $100K
3
x
x
x
x
x
Up to US $250K
3-5
x
x
x
x
x
Over US $250K
5
x
x
x
x
x